ELKHART LAKE AVAILABLE BUSINESS SITES
Below are the available sites that the Village of Elkhart Lake has been made aware of. If you have a site you would like listed on the Village website please contact the Administrator/Clerk-Treasurer's Office at 920-876-2122. The following is for informational purposes only, the information is subject to change without notice.
Business Properties Available For Rent
1 - Formerly Three Gables Consignment
Address: 176 East Rhine Street, Elkhart Lake
Business: vacant
Tax Key: 59121584390
Age: 1940 +/-
Description: 2029 square feet with retail space on the first floor and living quarters upstairs. Located in the heart of Elkhart Lake. Please contact Clyde Morter clyde@guymachinery.com for more information.
Business Properties Available for Lease
2 - Office/Retail Space
Address: 111 E. Rhine Street, Elkhart Lake
Description: 600 square feet available on the main level
Rent: $600 per month for both rooms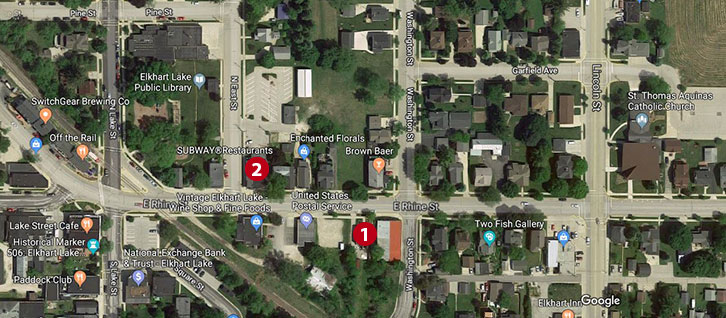 CONTACT US
40 Pine Street, P.O. Box 143
Elkhart Lake, WI 53020
Phone: 920-876-2122
Fax: 920-876-2892
Email: clerk@elkhartlakewi.gov
Hours
Monday – Friday 9:00 am to 4:30 pm