K-4 Fire Prevention Program
Empowering Children To Learn About Critical Fire Safety Precautions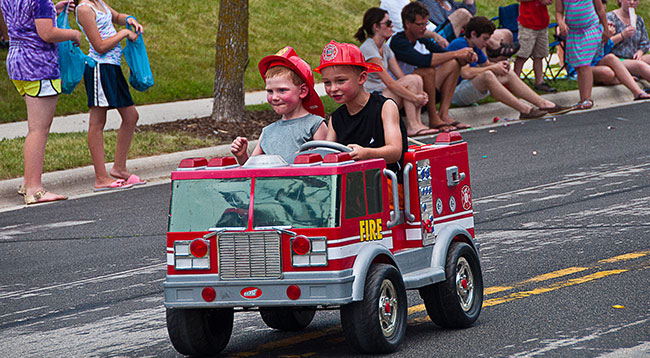 At The Elkhart Lake Fire Department, we know it's imperative that we provide the best fire safety education available to the children of our community. Students are empowered with the knowledge of how to prevent or escape a possible life threatening situation through a hands-on approach to fire safety education.
The Elkhart Lake Fire Prevention Program starts with children at the kindergarten level and goes through 4th grade. Each course is designed to be developmentally appropriate while establishing clear rules, guidelines, and skills to keep students safe from fire related threats.
K-4 Program Outline
Kindergarten - Students learn the basics of fire prevention, take a tour of the fire station, and ask questions. (We can say from experience that our firefighters benefit from these tours as much as the children do, as the little ones' enthusiasm is catching.
1st Grade - If a student's clothes ever catch fire we drill into them to: Stop! Running only feeds the flames. Drop! Fall to the ground. Roll! Roll as you've never rolled before, and smother those flames.
2nd Grade - Students are taught the EDITH routine: Exit - Drills - In - The - Home. Students learn the importance of exiting a home on fire, and knowing exactly how to exit. With parents (who also benefit from this), the student diagram their house. At least two exits from each room are planned and a destination is set for the family to meet, outside and away from the home.
3rd Grade - Students learn about doors and windows. Check a closed door for heat—it might be the wrong door to open. Know ahead of time how to open that window—that might be the only way out. Know what to do when exiting the house and when you encounter smoke.
4th Grade - The Elkhart Lake Fire Department's "House of Hazards" gives students a firefighter-supervised, simulation experience. They first review their fire exit knowledge, then have the opportunity to put it into practice. After the experience, it's time for further review, as this important knowledge is firmed up in their minds in a way that would not be possible without the actual, hands-on experience.