ELKHART LAKE FIRST RESPONDERS
The Elkhart Lake First Responders provide first responder level EMS care to the Village of Elkhart Lake and Town of Rhine.
We currently have 9 members who carry pagers, radios, jump kits and automated external defibrillators (AED). This equipment provides our members with the necessary resources to render care in emergency situations ranging from motor vehicle accidents to heart attacks. We are on-call 24/7/365.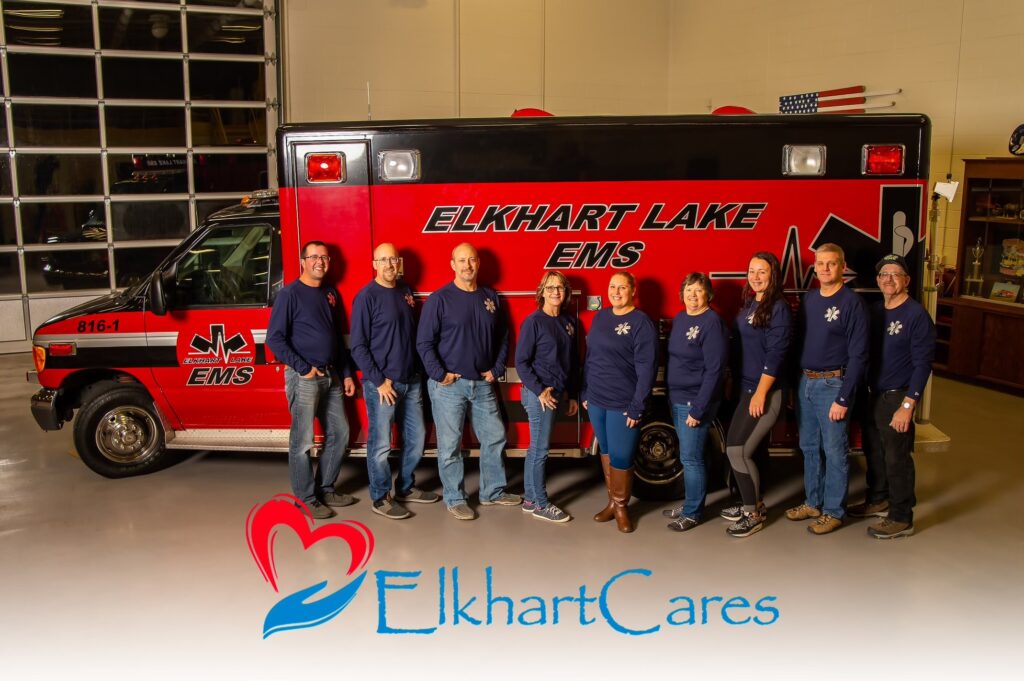 First Responder Membership
First Responder Officers
Michael Meeusen, Captain
Tad Matzdorf, Lieutenant
Brian Taubenheim, Training Officer
Kim Purkey, Secretary
First Responder Members
Michael Meeusen
Tiffany Faber
Jeff Schmidt
Tad Matzdorf
Kim Purkey
Lisa Holzmann
Brian Taubenheim
Ryan Meyer
Rob Schmidt
First Responder Fundraising
Public Access Defibrilation
The Elkhart Lake First Responders, in partnership with the Kohl Foundation, have placed Public Access Automated External Defibrillators (AED's) throughout the Village of Elkhart Lake and Town of Rhine. AED's are lightweight, portable devices, which provide an electrical shock capable of restoring the normal heart rhythm of cardiac arrest victims.  On-the-spot access to this device for people who suffer a cardiac arrest has been found to be a key to survival.
Fundraising Events
Other public education events include our booth at Downtown Night and our annual fish boil at the Elkhart Lake/Town of Rhine Fire Station.
We use the proceeds from these events to upgrade any equipment that may be outdated. We appreciate community and private donations to assist us with equipment replacement. Anyone interested in donating to the Elkhart Lake First Responders should contact the first responders at 920-876-2244.
Contact Us
610 S. Lincoln Street, P.O. Box 72
Elkhart Lake, WI 53020
Phone: 920-876-2244
Email: mmeeusen@elkhartlakewi.gov
Staff
Michael Meeusen, Captain
Tad Matzdorf, Lieutenant
Brian Taubenheim, Training Officer
Kim Purkey, Secretary