VILLAGE OF ELKHART LAKE POLICE DEPARTMENT STAFF
Michael Meeusen, Chief of Police
Police Chief Michael Meeusen joined the Elkhart Lake Police Department on May 16, 2006 as a part time officer, and shortly thereafter was promoted to full time after the retirement of Officer Bill Klaetsch. Chief Meeusen was named Chief of Police in September of 2012 after Chief Randy Boeldt announced his retirement in early 2012 after 22 1/2 years of service. While working as a patrol officer, Chief Meeusen was a member of the Sheboygan County SWAT team as a tactical medic, and also was in charge of the department's boat patrol unit.
Chief Meeusen graduated from Cedar Grove-Belgium High School in 2003 and continued his education at Fox Valley Technical College graduating in 2005 with an Associate's Degree in criminal justice. He then continued his education at Concordia University Wisconsin where he pursued a degree in Justice and Public Policy graduating with a Bachelor's Degree in 2007. After a short break from school he attended the University of Wisconsin-Platteville graduating in December 2011 with his Master of Science degree in Criminal Justice Management.
Along with his employment with the Elkhart Lake Police Department Chief Meeusen is also an adjunct instructor at Lakeshore Technical College and Fox Valley Technical College. Chief Meeusen currently resides in the area with his wife, Heather, and their three children.
If you have questions or concerns please contact Chief Meeusen. He works Monday – Friday starting at 7:00 am.
Contact Chief Meeusen:
Email: mmeeusen@elkhartlakewi.gov
Phone: 920-876-2244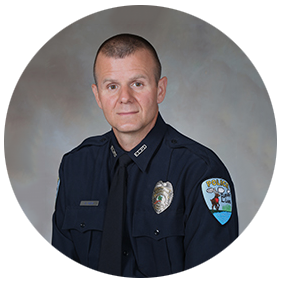 Scott Niemi, Police Investigator & School Liaison Officer
Investigator Scott Niemi joined the Elkhart Lake Police Department on February 24th, 1997. Scott is a graduate of North Western Technical College, holding an associate degree in Police Science.
Investigator Niemi is currently our School Liaison Officer. He spends Wednesdays in the Middle School and Thursdays in the High School. While preforming his liaison duties in the Middle School, he serves as a DARE instructor to all 5th grade students. Likewise, all matters relating to juvenile activity are referred to Officer Niemi for investigation. Scott currently resides in Elkhart Lake with his family.
Contact Investigator Niemi:
Email: sniemi@elkhartlakewi.gov
Phone: 920-876-2244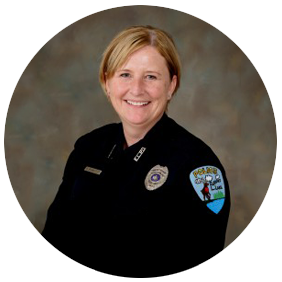 Renee Bramstedt, Police Officer
Officer Renee Bramstedt joined the Elkhart Lake Police Department on March 30, 2015. She had also served the Elkhart Lake Police Department in a part-time capacity back in 2006. Renee is a graduate of Lakeshore Technical College, holding an associate degree in Criminal Justice. Prior to coming to the Elkhart Lake Police Department, Renee served with the Sheboygan Falls Police Department. While there, she served as her department's evidence technician, school resource officer, Special Enforcement Team Member (SET), and Sexual Assault Response Team Member (SART). She also specialized in sensitive crime investigations.
Renee currently resides in the Howards Grove area with her husband Doug. She also has two grown children, Jordan and Payton.
Contact Officer Bramstedt:
Email: rbramstedt@elkhartlakewi.gov
Phone: 920-876-2244