THERAPY K-9 PROGRAM
Elkhart Lake is the first police department to implement a therapy dog at a law enforcement agency in Sheboygan County. This addition would not have been possible without the continued support of Elkhart Cares and an anonymous donor. "These are trying times for all in our community," Chief Michael Meeusen expressed. "We appreciate the generous donations from community members that have allowed us to bring this important program to our employees and the public."
Purpose
The mission of the Elkhart Lake Police Therapy K9 program is to encourage and cultivate positive relationships with the community and school district students and staff. The Elkhart Lake Police Department wants to proactively engage with citizens and students who may be struggling with trauma, mental health concerns, or may benefit from a dog being present.
The Elkhart Lake Police Department looks forward to the further development of this program and the impact it will make on not only the department but the entire Elkhart Lake community. If you are interested in working with our agency on this program please contact Chief Meeusen at MMeeusen@elkhartlakewi.gov or 920-876-2244.
The Police Department is proud to work with the following agencies that make this program possible:
Meet Copper
The Elkhart Lake Police Department received Copper as a donation from Blueberry Cottage Labradoodles in the Spring of 2022. This is the first therapy dog in the Sheboygan County area and will allow the department to better serve the citizens and students in the Elkhart Lake area.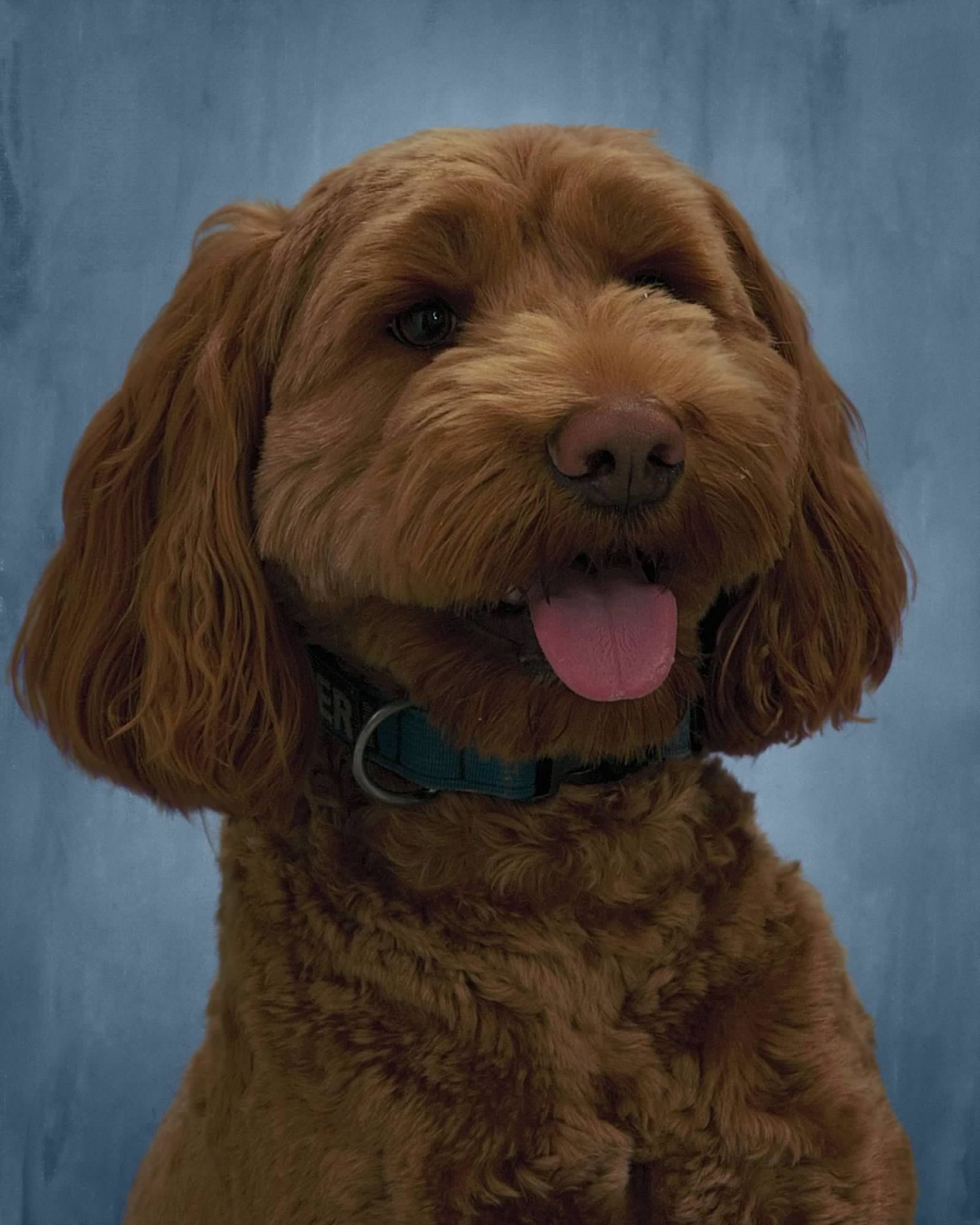 Benefits
Both citizens and students can experience positive mental and physical health benefits by interacting with a comfort dog. Petting and interacting with the dog is a non-threatening, non-judgmental way of helping break down mental and emotional barriers.
Mental Health Benefits
Decrease in stress and anxiety, experienced from post-traumatic stress disorder
Decreases loneliness and aggressive behaviors
Increases in socialization with an outward focus, including opportunities for laughter and a sense of happiness and well-being
Increases in spirit, self-esteem, and feeling of acceptance, enabling a patient to further participate in mental and physical therapy; to be more involved in group activities, and to accept social and emotional support
Provides a sense of belonging and gives unconditional love.
Physical Benefits
Decreases the stress hormone cortisol
Improvement in motor skills including standing balance, wheelchair, and other physical skills
Increases in hormones associated with health and feeling of well-being
Encourages communication
Helps children overcome speech and emotional disorders
Increased focus and attention through hands-on interaction
Daily Duties of a Comfort Dog
Daily duties (extension of handler)
Public events (National Night Out, Shop with a Cop, Graduation, Downtown Night)
Community outreach and engagement
Major/traumatic incidents
School literacy programs, career fair, and demonstrations
Grief loss and trauma (Both within the Police Department and schools)
Natural disaster incidents
Victim forensic interviews
Criminal investigations / interviews
Crisis intervention
Medical facility visits (hospitals, nursing homes, VA clinics, etc.)
Staff wellness