Join Our Ranks
When you support the Elkhart Lake Fire Department, you support your community. The Elkhart Lake Fire Department, as an important part of your community, stands ready to protect you, your loved ones, and your business.
Your involvement in the Elkhart Lake Fire Department introduces you to the rest of your community, transforming your neighbors from strangers into friends. Undergoing rigorous training, learning teamwork, and developing new competencies toward a common goal of making your community safer, increases both your respect for fellow community members and your own self-respect. This commonality of values creates a level and quality of brotherhood that is hard to find elsewhere.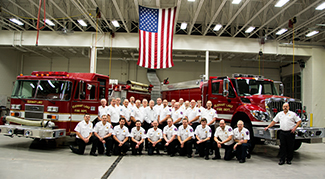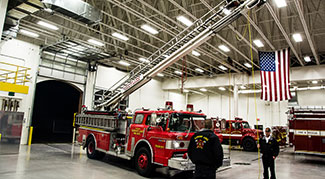 You Can Support the Elkhart Lake Fire Department in a Variety of Ways:
Become a Community Volunteer Candidate - We are looking for adult men or women living in the Village of Elkhart Lake, or the Town of Rhine, to become volunteer members of the Elkhart Lake Fire Department. Some members remain volunteers for all the years of their active membership. Volunteer fire departments could not exist without such dedicated members, who hold jobs, run businesses, and raise families. The community's safety and security depend on these people.
But volunteer membership can also be used as a springboard to a firefighting career. For those who set their sights on that life path, the training and experience acquired as volunteer members are invaluable. Communities hiring paid, professional firefighters are looking for the best. Volunteer members of the Elkhart Lake Fire Department become the best.
Regular Department meetings keep members up to date with training that is vital to safety services. Plans are made for Department-related fundraising activities that people in Elkhart Lake and surrounding communities look forward to. One example is the Independence Day Celebration at the Elkhart Lake Fireman's Park and Beach, where people enjoy food, beverages, games, rides, beach activities, a colorful parade, awe-inspiring fireworks, and a variety of live music.
Meetings offer an opportunity for positive social interaction and a sense of camaraderie in working together, as members continue their education in emergency services and plan community-enriching activities.
Support the Elkhart Lake Fire Department In Other Ways - If fighting fires and responding to emergencies are not for you, you can still support the well-being of your community and yourself by helping the Elkhart Lake Fire Department in other ways.
You can join the Auxiliary, or other groups and committees that plan and manage fundraisers.
A multitude of talents are required to plan and run the annual fireman's picnic. Chances are, you have more than one of those talents. It's tremendously rewarding to see people gathered for a good time for a good cause. See the joyous, optimistic spirit of this community first-hand, partly as a participant, partly (and proudly) as Fire Department Staff.
Can you help maintain Fireman's Park? We at the Fire Department are proud of our park. We want it to continue being something of beauty and quality that represents what the community of Elkhart Lake is all about, to residents and visitors alike.
Online Inquiry
Thank you for your interest in helping the Elkhart Lake Volunteer Fire Department and the community of Elkhart Lake. Please complete the form below and a department staff member will contact you on how to get further involved in supporting our community.