Elkhart Lake Fire Department Emergency Services
The Elkhart Lake Fire Department directly services the Village of Elkhart Lake and the Town of Rhine. We also stand ready to assist other local fire departments, as called upon.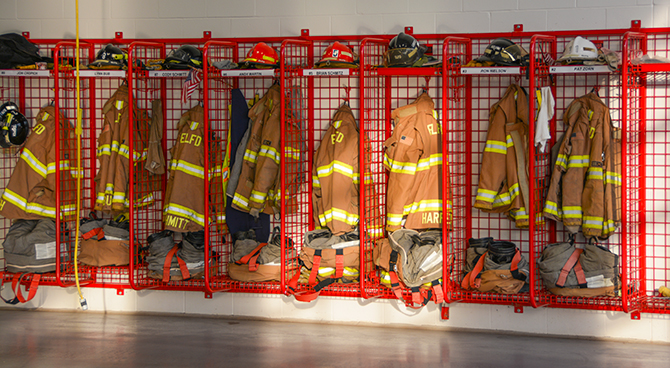 Firefighting - Through rapid communications networks, the Elkhart Lake Fire Department is able to quickly get its modern equipment and trained personnel to the fire scene. The specific nature of the fire is assessed, and the right techniques immediately initiated. Well-rehearsed procedures follow a rigidly defined chain of command to direct an organized effort to contain and subdue the fire.
Search and rescue - The job of the Elkhart Lake Fire Department First Responders is to locate, assess, stabilize, immobilize, and transport the injured. This is done on land or on water, in wooded areas or on broken ice, amidst sweltering summer heat or hypothermic cold. First Responders provide basic life support on the scene and in transit to the emergency room.
Auto accidents - The Elkhart Lake Fire Department is routinely called to the scene of an accident to prevent or extinguish a fire. The Department also has specialized hydraulic rescue tools, like the Jaws of Life. Trained personnel use these tools to cut, spread, and separate tangled metal and enable rescue workers to remove and treat the accident victim.
Weather related disasters - Tornadoes, blizzards, severe winds and flooding can cause damage and emergency situations where the Elkhart Lake Fire Department is called to help out. The Fire Department cooperates fully with police departments and utility companies to render aid and assistance at whatever level is needed.
Chemical spills - Some chemicals are combustible, and the resulting fires can have very different characteristics than more common fires. The Elkhart Lake Fire Department can effectively contain a spill and prevent a fire. But if it does break out, the knowledge is there regarding how to fight such unique fires and what protective measures to take to protect members and the rest of the community from toxic fumes.
Chimney cleaning - Chimney fires are more common than they need to be. Such fires happen when the creosote, deposited over time on the chimney's inner walls, ignites. The Elkhart Lake Fire Department offers chimney cleaning, on request, and has very helpful literature on the prevention of creosote buildup and other chimney maintenance and safety measures.