FIRE DEPARTMENT
Serving Elkhart Lake and the Town of Rhine
The Elkhart Lake Fire Department directly services the Village of Elkhart Lake and the Town of Rhine. We also stand ready to assist other local fire departments, when called upon. We are committed to high standards and community service, and are dedicated to excellence. Elkhart Lake Fire Department members are trained rigorously to enable them to respond to emergencies competently and professionally.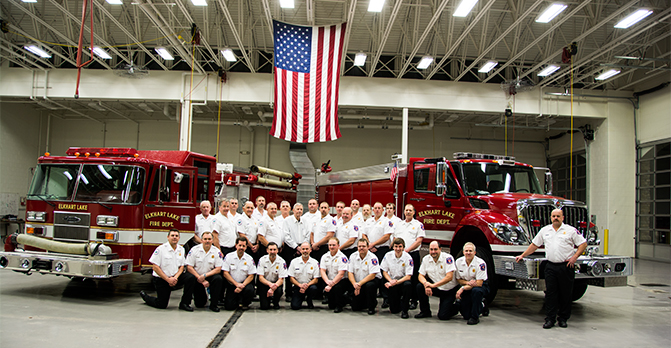 Service
Firefighting, rescue operations, fire safety education, assistance at auto accidents—these are some of the ways the Elkhart Lake Fire Department preserves your community, and protects you.
Brotherhood
An individual can protect his or her own property, life, and loved ones, but there are limits. When individuals, families, civic organizations, and businesses cooperate with the common goal of safely uniting them again, even greater things happen.
Legacy
For over a century, The Elkhart Lake Fire Department has been preserving and protecting the community.
Elkhart Lake Fire Department History
On October 10, 1897, the village board of Elkhart Lake established the Elkhart Lake Hook and Ladder Company. A firemen's dance two months later helped to raise funds for a hook and ladder truck. A year later, the Fire Department published its first constitution. A year after that, a hose cart was purchased, and Department members were issued uniforms.
A private shed housed the Department's equipment until 1903, when it used funds from picnics and dances to purchase and remodel a school house to use as a fire station. A new station was built in 1950. Its dedication was a grand event, drawing 30 fire chiefs and 400 firemen from surrounding communities.
The Department purchased lakefront property in 1931 for its park, relocated a boathouse there in 1933, and purchased additional land in 1938 and 1942. For decades, Fireman's Park and Swimming Beach has been the site of the Elkhart Lake Fireman's Independence Day Celebration. For the rest of the summer, the park is open to the public for swimming and other recreation.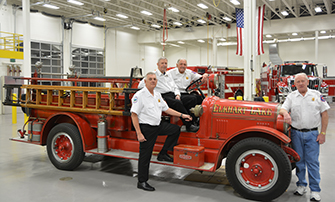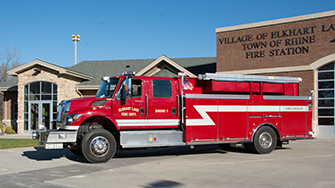 The history of the Elkhart Lake Fire Department is a history of the latest technology applied to firefighting and rescue work. From the beginning, trucks and other equipment were added to and updated whenever possible. In 1950, when a boy drowned in the lake and it was suspected he could have been saved by a respirator, donations were raised to purchase that device. By 1978, every Fire Department truck had two-way radios. The year after that, the Department purchased a Jaws of Life. In 1982, each member was issued a pager.
The Elkhart Lake Fire Department celebrated its centennial in 1997. Today, its second century of service to the community of Elkhart Lake is well underway.
Record of Elkhart Lake Fire Chiefs
Art Hein: 1897-1900
J.G. Brickbauer: 1900-1905
John Arndt 1905-1907
Peter Kramer: 1907-1909
Arthur Raeder: 1909-1911
Col. Gessert: 1911-1914
H.R. Brockman: 1914-1916
August Struck: 1916-1921
Peter Kramer: 1921-1934
George Bauernfeind: 1934-1942
Ray H. Kramer: 1942-1955
Harold Wolf: 1955-1956
Arno Conrad: 1956-1967
Larry Buechel: 1967-1993
Edward Weber: 1993-2003
Robert Schmitt: 2003-2005
John Reiss: 2005-2011
Pat Zorn: 2011-2021
Robert Schmidt: 2021-present
Record of Elkhart Lake Fire Department Secretary & Treasurer
Peter Kramer: 1900-1901
Henry Kramer: 1901-1902
Louis Brieske: 1902-1903
Henry Kramer: 1903-1904
Louis Brieske: 1904-1920
H. Otto Grade: 1920-1935
Elmer Brieske: 1935-1939
Wiliam Metze: 1939-1941
Ewald Brieske: 1941-1942
Norbert Janty 1942-1950
Edward Giebler: 1950-1952
Roland Gosse Sr.: 1952-1963
Leroy Feldman 1963-1998
Daniel Schmitt: 1998-2000
John Reiss: 2000-2004
Darren Lindstrom: 2004-2012
Ronald Nielsen: 2012-