ELKHART LAKE FIRE DEPARTMENT COMMUNITY IMPACT
The Elkhart Lake Fire Department Directly Impacts The Community It Serves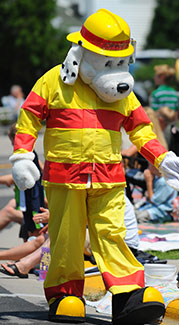 The Elkhart Lake Fire Department takes pride in its high standards, dedication to excellence, and commitment to community service. For well over a century, the Elkhart Lake Fire Department has been serving, protecting, and preserving the community its a part of.
The Elkhart Lake Fire Department works hard to directly impact the community it serves. Our community outreach includes:
Running the annual Elkhart Lake Fire Department Fireman's Picnic
Volunteering at Downtown Night
Volunteering at the Elkhart Lake First Responders Fish Boil
Fire Prevention Classes at Local Schools
Fire Extinguisher Classes at Local Businesses
The Elkhart Lake Fireman's Picnic
The Elkhart Lake Fireman's picnic is our annual fund raiser and music festival held down at Fireman's Park. The Picnic last three days: Friday evening, Saturday Evening and Sunday until 6PM. Beer, Brats & Hamburgers are provided and served by the firefighters and the music begins on Friday and Saturday nights from 8:00 PM to 12:00 PM. Friday night is also highlighted by the Elkhart Lake fireworks show. Sunday begins with the 4th of July Parade through the streets of Elkhart Lake, with the University of Wisconsin Band performing the famous "5th Quarter" as the last unit in the parade.
Proceeds from the Picnic have funded various needs of the department.
The Elkhart Lake Fireman's Picnic Proceed Purchases
The Elkhart Lake Volunteer fire department has made good use of the funds generated by its annual Fireman's Picnic . In just the last 15 years the department has spent over $100,000 from the proceeds from their annual event to purchase materials and equipment to make their job safer and easier. This has only been possible with the generous support of the community in which we serve. Some of the larger cost items purchased include:
¾ Ton Chevrolet Pickup Truck
Polaris Ranger 6 x 6 ATV with Enclosed Trailer
2 Thermal Imaging Cameras
A 2nd JAWS Unit with Cutting Tool
On Scene Rehab Tent
Water Rescue Apparatus, Rescue Suits, and Ropes
The Firefighter Memorial in front of the fire station
 Hazardous Material Detectors
Gas Powered Cutting Tools (Chain Saws, Wacker, etc.)
 Personal Protective Equipment
Elkhart Lake/Kiel Fire Department Scholarship
Dennis Kawczynski was a local firefighter and a successful business man who was involved in numerous community organizations. This scholarship is given in his honor and on behalf of the Elkhart Lake and Kiel Fire Departments.
Two $500.00 Scholarships will be awarded.
Eligibility Requirements:
Pursuing a career as a firefighter, EMT, or medical profession
Honest, loyal and dependable student
Infrequent absenteeism or tardiness
Good academic achievement
Strong leadership skills
Has been involved in extra curricular school or community activities
Provide an essay with application (min. of 300 words) on how volunteering for a non-profit organization benefits any community (Please complete this on a separate sheet of paper. Be sure to include your name and the name of the scholarship.)
High school scholarship committee will forward all applications to the Elkhart Lake Fire Department. The Elkhart Lake and Kiel Fire Departments will determine the recipient.
Preference will be given to any student enrolled in the Elkhart Lake Fire Department Cadet Program.